About StyleLingua
Wardrobe strategies that help you express your best self.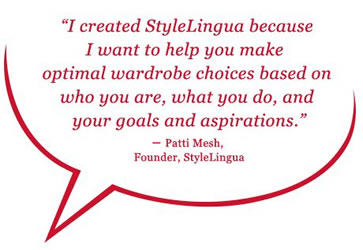 StyleLingua grew out of founder Patti Mesh's long-time interest in the relationship between image and impact, and how this dynamic works for individuals in our visually oriented world.
Now, she's turning this interest into action. Patti has designed a customized, multi-faceted approach to help you discover your personal StyleLingua Factors (SLF) and develop a simplified, mindful understanding of how to use image, style, and wardrobe to express your best self.
The result is an actionable personal style and wardrobe strategy aligned with your desired image and the activities you engage in, week after week, month after month.
StyleLingua will help you be a savvier shopper and a more confident, intentional dresser, so you can make the impact you want, at any stage of life.
StyleLingua Founder, Patricia "Patti" Mesh
Patti brings years of experience, knowledge, and training to the business of image and wardrobe strategy. Her collaborative methods and positive approach are designed to help people at every stage of life dress with clarity and purpose, and express an image that serves them well.
A member of the Association of Image Consultants International (AICI), Patti earned her certification in image consulting from New York's Fashion Institute of Technology (FIT), and received color intensive training at the Image Resource Center of New York. She also has a Bachelor of Arts in business management and an associate degree in fashion merchandising.

Patti has held management positions with national and international corporations, where she was involved with marketing and promoting luxury goods and consumer product brands in various industries.

Originally from North Carolina, Patti now resides in Fairfield County, Connecticut. In addition to her work with clients, Patti provides wardrobe guidance as a volunteer personal stylist with the not-for-profit organization, Dress for Success.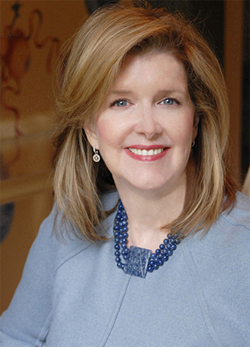 About the Artist
Jennie Yip works with world-renown clients such as Edelman Global Marketing, Unilever Global, TRESemmé, Nexxus Salon, L'Oréal, Coors Brewing Co, Eva Scrivo Salon, Love Beauty and Planet, Microsoft, Mon Purse, McCann Erickson, Ogilvy & Mather, Clairol, Revlon and RJ Ryenolds. Her illustrations are used for television commercials and national ad campaigns, as well as on licensed products. She can be reached at www.jennieyip.com.